Rajasthan's rich culture is displayed exceptionally via its textiles, intricate prints, traditional fabric, and diverse patterns. The handicraft skills and expertise of the craftsmen with the superior design, and an eye for detail create wonders when it comes to weaving textiles.
From block printing of Bagru and Sanganer, daboo printing to ajrakh printing, there are incredible printing techniques for which the royal state is famous. Through our handpicked clothing, we have curated an incredible collection for you in the contemporary world to match with the contemporary flavour yet immersed in the essence of Rajasthan.
Open the doors to your wardrobe to welcome a beautiful spectrum of colours and exclusive designs straight from the weavers of Rajasthan.
Block Printed Sarees from the remotes of Bagru
Bagru' print is a centuries-old traditional art of hand block printing which is still alive.
Situated at a distance of 30-35 km on Jaipur – Ajmer road there lies a small typical village called 'Bagru'. Bagru is famous for its prints and textiles mainly for its ecological consciousness and the use of traditional dyes. There are dedicated artisans which made this craft still living by using natural colours. A community of CHIPPAS (traditional craft people) prints fabric by hand.
It's a place to be visited and to see the process of how each fabric is being made and finally adorns your body.
Oorjaa Sarees -tells a story of stunning prints, bold designs and intricate workmanship!
A handwoven and hand-printed easy fabric speaks for its artistic craftsmanship and an artist's skills. A craftsman transforms this drape into stunning wearable art with classic colours and outstanding prints. Oorjaa brings to you a soulfully curated collection of handcrafted drapes in mulmul-cotton fabric sustainably sourced from the traditional craftsmen of Rajasthan. The splendid art of weaving sarees has been around for decades in India. Talking about sarees, mulmul-cotton block-printed sarees have always caught attention. Crafted in the remotes of Rajasthan, with beautiful colours, patterns, and vivid designs the block print sarees are popular amongst all ages of women. Precisely adored for their classic designs and variety, the mulmul-cotton sarees have carved a place for themselves in the wardrobe of every in India or abroad. Do you know what is the best thing about mulmul- cotton sarees? That, you can wear them on any day and for any occasion you want. Artisanal made, and sustainable by nature the Bagru mulmul-cotton sarees are perfect comfort wear for summers while keeping you always in style. It is time to explore and drape yourself in the best-in-class, elegant block print sarees from Oorjaa. Products you receive may vary marginally in prints and shapes as each product is handcrafted and printed manually. That's what makes them unique and beautiful.

OORJAA WOMEN
The question of draping a saree didn't arise with the paucity of time for many. But the free-spirited woman who is bold, expressive, and confident will be intrigued with the sarees available on OORJAA.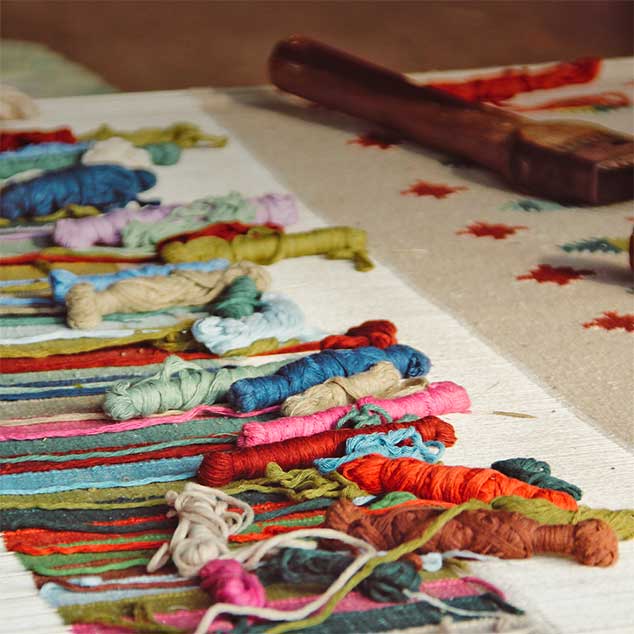 Oorjaa is driven by a passion for Rajasthan's art and crafts. We believe in the beauty of our traditional crafts which are slowly fading away from the urban lifestyle. Hence, the idea of bringing the finest handmade cotton mulmul /Kota saree comes up that spells distinct flavours of the artisans we work with. Oorjaa aims to unravel Rajasthan's heritage craft, its essence and its legacy in the contemporary fashion world.
Every individual style is a personal choice and so is our saree collection. We keep our collection with great attention to the purity of each product. The prints and designs are curated by artisans across villages in Rajasthan. From exclusive age-old wooden block prints Sarees from the Bagru village to the prints from Sanganer and the Doria from Kota, we have travelled a lot to bring you to age-old crafts with a niche contemporary spin.
Come and support a handful of artisans who are engrossed and are ensuring the survival of the traditional art with OORJAA. When you buy a piece of cloth from OORJAA you are not just upgrading your wardrobe but supporting many families who regularly work as the master printers, dyers, block carvers, dhobiwalas (laundry people), and designers.