Product Details
Blue Pottery Traditional Elephant square shape wall panel tile in wood frame
Pack Of : 1
Handling Instructions : All Blue Pottery products are fragile
Product Details
Blue Pottery Traditional Elephant square shape wall panel tile in wood frame
Pack Of : 1
Handling Instructions : All Blue Pottery products are fragile
Moulding the soul into a handicraft
Blue Pottery

Eco friendly

Handmade

Vocal for local

Ethically made

Make in India

Having travelled through the generations of royal art and culture, one of the most prolific arts of Jaipur city is Blue Pottery. This art enjoyed royal patronage since the days of Sawai Ram Singh II, later the craft was kept alive by patrons like Rajmata Gayatri Devi. 

The meticulous art of Blue Pottery encapsulates the spirit of painting, carving and moulding altogether. Embellished in floral motifs and beautiful hand-drawn designs with natural colours and substances, this is an art form that stands distinguished from all other forms of pottery owing to its usage of special dough. It is the only pottery in the world that does not use clay. The art of Blue Pottery is a time-consuming and tedious craft as each step is done carefully through hands. Hand-crafted Blue pottery is widely kept alive through the creative expressions, skills and the honest labour of the craftspeople.

Through Oorjaa, we aim to bring the traditional art of Blue Pottery into the mainstream from the remote parts of Rajasthan and support these artisans in having a sustainable livelihood. Lastly, nothing can be compared to the contentment that one gets after buying handcrafted blue pottery. OORJAA is proud to gather some gorgeous blue pottery collections in a myriad of colours and patterns for your home decor. 
All blue pottery products are handmade and may have slight irregularities in design and colors that are a natural outcome of the human involvement in the process.
Use & Care Tips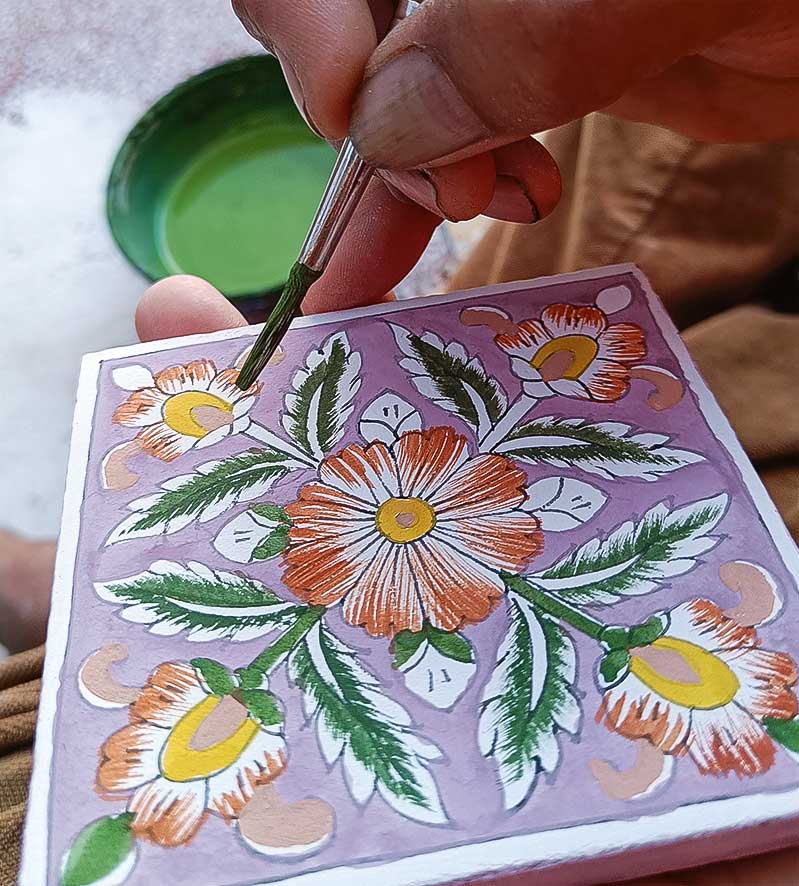 All blue pottery items are fragile. Handle pieces as little as possible

Clean only with soft dry cloth

Avoid washing under High-pressure water and harsh detergents

Restore the shine by rubbing some oil

Avoid touch of sharp objects on the surface

Kitchen wares intended for both hot and cold use

Microwave safe, avoid directly putting kitchen ware from fridge to oven, give sometime to come to room temperature

Never put anything over a open flame