Reviving the Stories of Incredible Art- Handwoven Durries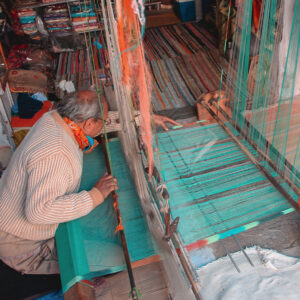 The textile heritage of India has always been admired for its artisanal, sustainable and natural ways of adapting resources while representing the essence of the landscape and history of the land itself. Durries are one such fascinating part of our textile heritage. The thick, handwoven flat-weave dhurries which are used as a floor-covering, are an integral part of any home and are also used for surface ornamentation. Robust and long-lasting, Durries are indigenous to India and are valued across the world. Manually made in ethnic motifs combined with contemporary tastes and colours, Dhurries have come out from the rural quarters as the ultimate furnishing option for the urban lifestyle.
Today, the weaving process is still the same as it was hundreds of years ago, but in terms of design, there is a multitude of patterns and motifs in dhurries viz- geometric in design or inspired by flora fauna, architecture and many other themes.
When you buy from OORJAA , you not only get a piece of surface ornamentation but also support an artisan, our textile heritage and the country's indigenous craft which needs to be preserved.
Our initiative has in a small way helped a few artisans continue practising their profession, regular work and revenue play a positive impact on the quality of life of weavers and a respectable livelihood for artisans in their native villages.
Traditional contemporary durries should be next on your list!
To shop hand block printed artisanal OORJAA durrie, click https://oorjaashopping.com/product/pink-hand-block-printed-cotton-durrie/
Leave your comment
Related posts